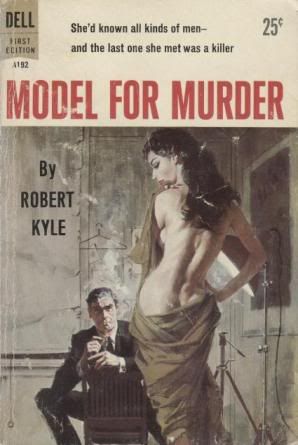 A jockey-sized man, his face cross-hatched with cuts, was mopping the vestibule. He looked at me with displeasure as I tracked up his floor. I am a private detective, and perhaps it showed. I carry credentials signed by the New York Secretary of State, giving my height as five-nine, my age as 34, and authorizing me to ask people questions until the thirty-first day of the following December. People aren't required to give me answers, however, which I often have trouble explaining to my clients.

Ben Gates is hired to pay off a woman who is blackmailing the client's cousin. There are two distinctly odd things about the onset of this case, though. One is the client doesn't know what her cousin is being blackmailed for. The other is that the blackmailer conveniently kills herself as Gates is knocking on her door. Say, that's kinda convenient...

Its the second book in a row that I've read where a New York PI goes on a long road trip. Except, in this case, its the other way around. He has to fly to Cleveland to track down the cousin, and, after a very rushed complicated set of events, Gates hires a taxi cab to drive him and his client's relative all the way back to the Big Apple. In fact, the driver (a guy named Stoloff) is essentially his sidekick for more than half the book.

He looked like the kind of desperate character who is willing to shoot a delicatessen proprietor for the loose change in his cash register, and he had the gun in his hand to do it with. He showed it to me through the window, and knocked on the glass.
"Out," he said.
Stoloff stopped trying to get gas to the motor. I opened the door.
"I want you to keep your hands where I can see them," the youth said, enjoying every minute of it, "or this gun is liable to go off."
Television is a technical marvel, but I sometimes wonder about its effect on impressionable youngsters.

Another satisfying read from Robert Terrall.